21/03/2006
Ces jours-ci, j'ai reçu la visite de mes parents et d'un de mes frères. J'ai bien rangé ma chambre avant leur arrivée, et j'ai mis certains livres en évidence pour faire "studieuse". Non, en fait j'exagère, je range ma chambre même quand mes parents ne sont pas là, et j'étudie aussi. Si si, je vous assure.
Some days ago, my parents and one of my brothers visited me in Oxford. I tidied my room before my arrival, and displayed some books to appear as a studious girl. No, I just exagerate, in reality I clean my room even if my parents are not there, and I also study. Yes it's true.
Bon, après leur arrivée, c'était plus le bazar ! Et oui, ils m'ont amené plein de bonnes choses !
After they arrived, i twas a big mess ! Yes, they brought me some nice things to eat !
Mais qu'y a-t-il donc dans ce carton ?
What is inside that box ?
Suspense...
Des bûgnes !!! Et oui, ma tante Annie m'a fait parvenir ces bûgnes faites maison par mes parents ! Et elles sont réussies ! Merci Annie !
Some home-made bûgnes, a French speciality ! Yes, my aunt Annie asked my parents to give it to me. And these bûgnes were very good ! Thanks Annie !
En voici la preuve : Nathalie (au premier plan) et moi en pleine degustation.
Here is the proof : you can see Nathalie (on the foreground) and me appreciating them a lot !
ça vaut le coup d'être avec Papa-Maman parfois ! Hum, restaurant !
That's very nice to be with Mum and Dad sometimes ! Yummy !
Le samedi 18 mars, nous sommes allés à Londres, et avons visité les endroits typiques à voir. C'est la septième fois que je vais à Londres cette année, je ne crois pas que je vais y retourner de sitôt maintenant ! Nous sommes tombés au beau milieu de manifestations anti-guerre, et surtout contre l'occupation en Irak. Il y avait énormément de monde, la télévision… Le soir, aux informations télévisées, nous avons vu l'endroit exact où nous nous trouvions. Mais on n'est pas passés à la télé, snif ! ;)
On the Saturday 18th of March, we went to London. We visited the typical places. This is the seventh time that I go to London, I don't think I'll go back as soon as now. We arrived during big demonstrations against war, and especially against the Iraq's occupation. There were many people, the T.V. was there too... On the evening, on the T.V. news, we saw the exact places where we were. But we weren't on T.V., snif ! ;)
Mes parents et mon frère
My parents and my brother
Et le lendemain, flâneries dans Oxford, MA ville. Oui, je suis fière de vivre ici pour une année, c'est une très belle ville où il fait bon vivre, avec une architecture très riche.
The day after, we strolled around Oxford, MY city. Yes, I'm proud to live there for one year, it's a beautiful city where it's pleasant to live. Moreover, it has a beautiful architecture.
17/03/2006
La correction de la vision est devenue chose courante dans beaucoup de sociétés. Les contrôles de la vue sont fréquents, et la prescription du port de lunettes de vue démocratisée. Il y a des gens qui voient bien, d'autres moins bien, c'est comme cela. Aujourd'hui, certaines paires de lunettes sont très efficaces pour corriger les imperfections de la vision. Il n'est pas choquant de voir de jeunes personnes porter des lunettes, on y est habitués et l'on en fait abstraction.

Tout comme il y a des gens qui voient très bien, d'autres bien, d'autres moyennement bien, d'autres pas bien, d'autres très peu, d'autres pas du tout, il y a des gens qui entendent très bien, ou bien, ou moyennement bien, ou pas bien, ou très peu, ou pas du tout. Mais, contrairement à la vue, les problèmes d'audition sont moins systématiquement dépistés et soignés. Et le port d'appareils auditifs me paraît moins bien "accepté" par la société, dans le sens où les gens semblent considérer ceux portants des appareils auditifs comme plus "handicapés" que ceux portant des lunettes.

Le fait que la vision soit plus souvent soignée que l'ouïe vient peut-être du fait qu'il est plus facile de la corriger (mais je ne suis vraiment pas sûre de ce que j'avance, je ne m'y connais rien). En tout cas, je trouve ça dommage que certains regardent d'un œil étrange un enfant qui porte des appareils auditifs, alors que les enfants portant des lunettes ne sont l'objet d'aucune curiosité (et tant mieux).

Comme dans tous les domaines, on a tous plus ou moins les mêmes attributs, mais à des degrés différents : certains sont grands et d'autres petits, certains sont forts en mathématiques et d'autres forts en musique... Mais être doué en musique n'empêche pas d'être capable de faire des mathématiques.

J'ai beaucoup de mal à faire passer mon idée, mais ce que je veux dire, c'est qu'il est peut-être plus facile d'avoir des problèmes de vue que des problèmes d'audition.
---
The correction of the vision has become a common thing in many societies. The sight's controls are frequent, and the prescription of glasses is democratized. Some people see very well, some others well, some others less well, that's it. Today, some glasses are very efficient in correcting the sight's imperfections. Seeing young people wearing glasses is not shocking at all, we are very used to it and we just forget it.

As there are some people who have a very good sight, some others a good sight, some others a correct sight, some others a bad sight, some others a very bad sight, and some others can't see at all, there are some people who hear very well, or well, or just correctly, or badly, or very badly, or who can't hear. But, contrary to the vision, the hearing troubles are less systematically detected and treated. And the wearing of hearing aids seems to be less "accepted" by the people. I mean, some people seem to consider those who are wearing hearing aids more "handicapped" than people wearing glasses.

The fact that the sight is treated more often than the hearing is maybe because it's easier to correct (but I'm really not sure of that hypothesis, because I have no culture concerning that field). In any case, I think that's a shame that some people look in a strange way at the children who have hearing aids, whereas the children who are wearing glasses are the subjects of no curiosity (and so much the better).

As in any field, we all have more or less the same attributes, but to different degrees : some are tall, some are small; some are good in mathematics, some are good in music. But being gifted with music does not disable you to do mathematics.

I have a hard time explaining what I want to say, but what I mean is that it's maybe easier to have visions troubles than to have hearings troubles.
16/03/2006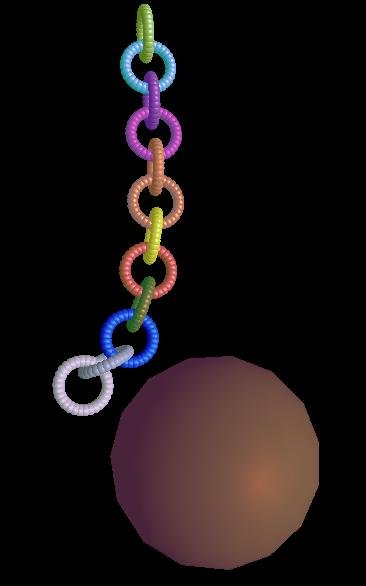 Nathalie m'a transmis une chaîne, pour « m'aider dans mon manque d'inspiration ». En fait, ce n'est pas un manque d'inspiration (j'ai une grande liste de choses à publier dans mon blog, mais je n'ai pas envie d'y publier maintenant), mais c'est plutôt une sorte de désengagement. Je me répète, mais j'ai des problèmes avec skynetblogs et ça m'énerve, donc je reconnais que je m'implique moins dans ce blog, même si je le continue volontiers, bien sûr ! Néanmoins, merci Nath, car je n'ai pas envie de me creuser la tête ces jours-ci. Quoiqu' avec cette chaîne, je présage que je vais avoir du fil à retordre !
La dernière personne que j'aurais voulu embrasser : Matt, un de mes voisins anglais ? Non ! Je n'irais pas jusqu'à l'embrasser quand même. En fait, il commande ses courses par internet à cause d'un petit souci de santé qu'il a eu, et il m'a proposé de commander ce que je voulais. Du coup, chaque semaine, je vais avoir mon lait livré à domicile, jusqu'à nouvel ordre ! C'est cool, car je galère trop quand je reviens des courses pour porter le lait, c'est lourd ! C'est gentil de sa part d'avoir proposé d'ajouter des choses à sa liste ! Quand je vous dis que les anglais sont serviables !
La dernière personne que j'aurais voulu gifler : une fille que j'ai de plus en plus de mal à supporter, qui imagine avoir tout les malheurs du monde sur ses épaules alors que c'est loin d'être le cas, et qui croit toujours que son avis est le meilleur et le seul valide. Arghhhh ! Encore aujourd'hui, elle m'a gonflée !
Et il y a aussi une deuxième personne, mon voisin zambien : il fume je ne sais quoi à longueur de journée, et même la nuit, et ça m'intoxique ! J'en ai vraiment marre de respirer ses cochonneries. Du coup, au moment où j'écris, j'ai la fenêtre ouverte. Je préfère avoir froid que respirer sa pollution. Je n'en peux vraiment plus de lui !!!!!!!!!!!!!!!!!
L'expression que j'adore : « C'est mon pêché mignon !» ? En fait, cette expression est l'origine d'un fou rire … Hein Farah ?
Ma plus grande qualité morale : ce n'est pas vraiment à moi de juger mes qualités ou défauts, mais je dirais que je déteste trahir. Si quelqu'un m'accorde sa confiance, il peut être sûr que je la respecterai.
Mon pire défaut moral : non Nathalie, je n'ai pas copié sur toi ! Moi aussi je pense être têtue. D'accord, d'accord, j'avais l'embarras du choix pour les défauts…
Physiquement, la chose la plus jolie chez moi : ce n'est pas à moi de juger.
Physiquement, la chose la plus moche chez moi : il y a quelque chose que je déteste chez moi, mais je ne vous dirai pas quoi. Tralala.
La plus belle ou gentille action que j'ai faite : ce n'est peut-être pas la plus gentille chose que j'ai faite, mais j'ai renoncé à une histoire avec un garçon car ma meilleure amie de l'époque en était amoureuse. Je l'ai regretté longtemps. Après, le garçon en question m'a écrit une lettre, et je n'ai jamais pu lui répondre car j'avais perdu son adresse ! Et l'autre fille n'a jamais voulu me la donner, alors qu'elle l'avait. Donc je déteste repenser à cette histoire, car ce qui m'énerve le plus est le fait que le gars a dû penser que je n'avais même pas daigné répondre à sa lettre, alors qu'on avait dit qu'on s'écrirait. Il doit penser que je ne suis pas fiable, alors que j'aurais vraiment voulu lui répondre !
La pire vacherie que j'ai faite : j'ai du mal à trouver une vraie vacherie… J'ai pourtant bien dû en faire quelques-unes ! Mais en général, j'évite le plus possible de blesser les gens. Sinon, quand j'étais très jeune (environ 6 ans je pense), j'ai versé plein d'eau sur les draps qui séchaient chez la voisine du dessous de ma cousine, car on la détestait ! Je sais, c'est très bête ! Jeunesse me pardonne…
La question à laquelle je refuse de répondre : trop pour n'en citer qu'une.
La question qu'on ne m'a jamais posée et à laquelle j'aimerais répondre : chut. Je dors.
Les suivants à répondre sont : saisissez l'opportunité si vous le voulez !
---
Nathalie assigned that trunk to me, she said it was to help me with my lack of inspiration. In fact, it's not a lack of inspiration (yes, I have a big list of ideas for articles, but I don't want to write these articles now), it's a kind of disengagement. I know, I recur, but I have some problems with skynetblogs and it's annoying, so I have to admit that I'm less involved in my blog these days, even if I continue it, of course ! Nevertheless, thanks Nath, today I don't want to think too much... I hope this serie will be easy to answer to ! But I'm not so sure...

The last person I would have liked to kiss : Matt, one of my English neighbours ? No ! I wouldn't go up to kiss him, all the same ! But let me explain : because of a little health problem, he orders his food with the Internet, and he proposed me to order things if I wanted to. So now, each week, I'll have a door-to-door delivery milk, until he'll go to shop on his own again. That's cool, because I had hard times carrying my milk, because it's heavy ! That's very nice from Matt to have proposed to add things to his list ! I told you, English people are really helpful.

The last person I would have slapped : a girl… I have more and more difficulties to bear her. She believes that she's "carrying" all the problems of the world whereas it is far from the truth ! And she always thinks her opinion is the best and the only one effectual. Argh ! Even today, she was annoying !

Oh, there's also another person : my Zambian neighbour : he is smoking I don't know what, all day long and even during the night, and it makes me be poisoned ! I'm REALLY fed up to breathe his filthes ! Because of that, at the right moment when I'm writing that, my window is opened even if I'm cold because I prefer being cold than breathing his pollution. I can't bear him !!!!!!!!!!!!

My favourite expression : "C'est mon pêché mignon !", because we laughed so much because of that ! Isn't it, Farah ?

My most important moral quality : I don't think I'm the most appropriated person to judge my qualities or defaults, but I would say that I can't betray. If somebody "gives me his trust", he can be sure that I will respect it.

My worst moral quality : No, Nathalie, I didn't copy you ! Me too, I think I'm stubborn. Ok, ok, maybe I could have chosen another default, as I have several ones !

The most beautiful part of my body : that's not me who have to judge that.

The ugliest part of my body : there is something that I hate on me, but I'll never tell you what.

The nicest action I've done : It's maybe not the nicest thing I've done, but I abandoned the idea of a story (which could have been possible) with a boy because my best friend of that time was in love with him. I regretted it for a while. Then, the boy wrote me a letter, and I never had the possibility to answer because I lost his address ! And the other girl never agreed on giving it to me, whereas she had it. I hate thinking about that story, because what is the most annoying for me is the fact that the guy has probably thought that I didn't deign answering him whereas we said that we would stay in touch. So now, he probably thinks I'm not reliable, whereas I really would have liked answering to him !

The dirtiest trick I've done to someone : That's difficult to find a real not nice trick I've done. I'm sure I did some tricks, though. But usually, I avoid hurting people. Otherwise, when I was about 6, I poured water on the sheets of my cousin's neighbour because we didn't like her. I know, that's not clever, but maybe my youth will make me be forgiven !

The question I don't want to answer : Too many to mention only one.

The question nobody has never asked me and that I would like to answer: Shhh. I'm not there anymore.

Next people to answer : just those who want to